Merchandise Strategy
Jeans are the core product category in the Right On MD Plan. Our product range encompasses leading global brands such as Levi's, Edwin and G-Star as well as innovative functional products sold as private label brands. Our key value offering is that we always stock authentic products equivalent to or better than our rivals in the retail industry.

In the core jeans category, Right On maintains a careful balance of both enduring basic lines and on-trend fashion lines. Basic product lines are designed to be long-lasting, made from the finest selected materials with an uncompromising insistence on quality standards, while on-trend lines add a sense of color and fun and are tuned to the latest developments in the fashion world.
MD with jeans as core category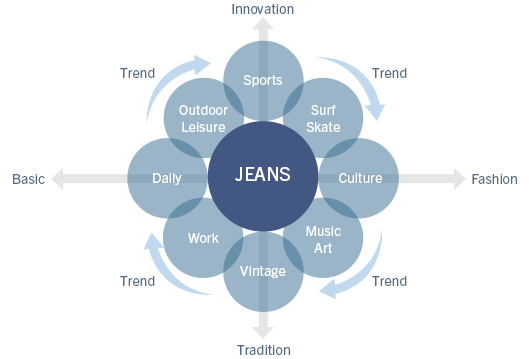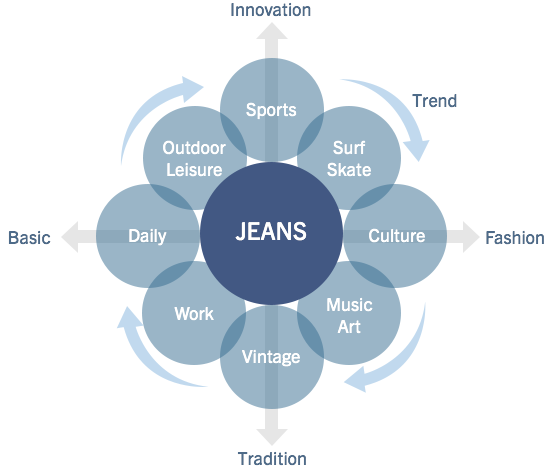 Brand differentiation strategies: national brands
Right On is committed to establishing ongoing partnerships with leading brands in various different categories. We seek to differentiate ourselves from the competition by offering a wide range of popular products while at the same time creating a number of unique collaboration lines in conjunction with our partners. When it comes to popular products, we only stock selected lines that we deem to be the best available offerings.

National Brand List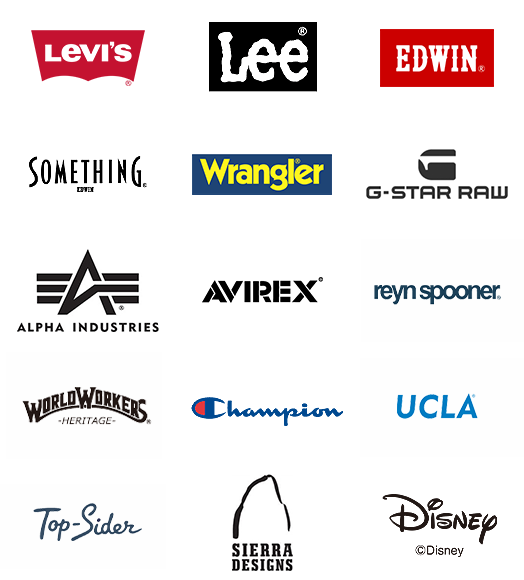 Brand differentiation strategies—private labels
Right On is also heavily committed to nurturing private brands, which are more agile and better able to adapt to and reflect the latest developments in consumer tastes and preferences. Private brands such as Back Number are defined by an uncompromising focus on product quality.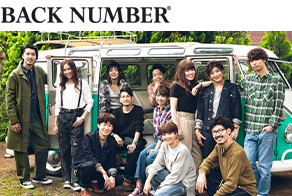 The universality of having good old fashioned vintage clothing on hand and being able to naturally come up with subjects or ideas while feeling comfortable in your clothes. The concept of 'RE-VINTAGE' is to keep the value of vintage clothing while reconstructing and offering it to the people of this generation.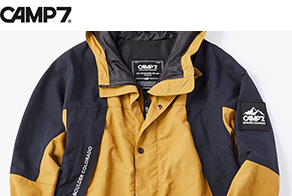 'CAMP7' established 50 years ago but still highly received with customers around the world, has introduced coordinated items with the feeling of good old fashioned American brands that are suitable for the whole family to enjoy. Be fully satisfied going out and about with a matching outfit sporting a pleasant unity of colors and logo designs.
Private Brand List

Washi denim

The perfect jeans for the Japanese climate
Water-repellent denim

Hard-wearing water-repellent fabrics
BASIC JEANS

Jeans to suit every style and taste
Based on customer feedback
Feedback from the retail sphere is an integral component of the product development cycle.
Right On actively seeks feedback from retail operations through initiatives such as the national product conference, where store managers from around the country come together to offer feedback and suggestions on the product range. In addition, head office staff are regularly deployed to retail outlets for in-store observation, while customer feedback and product suggestions are incorporated into product development.